The place to Buy & Sell Rallycars and Spares
Peugeot 205 gti mi16
1988
Road Rally
5995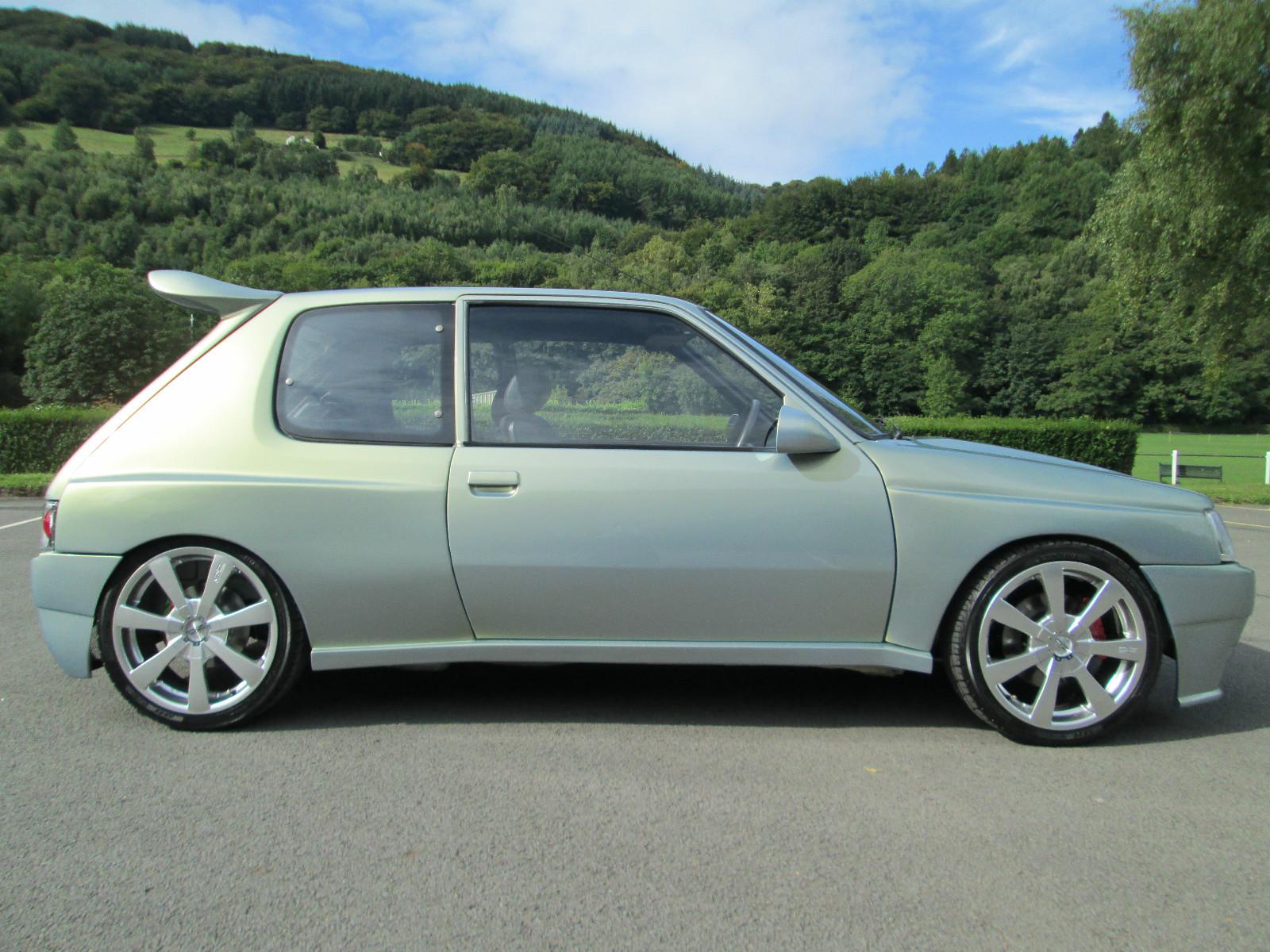 Unique!
ground up rebuild
As new!!
E200PUG

AN OPPORTUNITY TO PURCHASE A VERY UNIQUE CAR

OK, KNOWING WHERE TO START IS THE DIFFICULT BIT!! THIS CAR HAS JUST BEEN FINISHED AFTER A 11 YEAR LONG RESTORATION, YES, ITS BEEN OFF THE ROAD FOR 11 YEARS AND DONE ITS FIRST FEW MILES FOR MOT A FEW WEEKS AGO WHICH IT OBVIOUSLY PASSED WITH FLYING COLOURS. I HAVE RECEIPTS TOTALING £7600 AND THATS WITHOUT THE PAINTWORK, GLASS AND LOADS OF OTHER THINGS! THE COLOUR OF THE CAR IS AN ALFA ROMEO COLOUR (NUVOLA BLUE) AND HAS BEEN PAINTED WITH MANY COATS AND LAQUERED AND POLISHED WITHIN AN INCH OF ITS LIFE SO THE FINISH IS GORGEOUS. THE BODYKIT IS ALL FROM ECOSSE, AND HAS BEEN FITTED PERFECTLY (THERE ARE APPROX 150 PHOTOS OF THE BUILD FROM START TO FINISH). THE FUEL FILLER HAS BEEN MOVED FROM THE REAR PILLAR TO BEHIND THE REAR LIGHT WHICH IS NOW ON A HINGE! (SEE PICS). MORE OR LESS EVERYTHING ON THE CAR IS BRAND NEW INCLUDING THE ENGINE! THE UNDERSIDE AND THE ENGINE BAY IS AS GOOD AS THE TOP AND THE INTERIOR IS 100% ORIGINAL AND MINT WITH GREY CARPETS AND HEADLINING.
I CANNOT STRESS ENOUGH ABOUT THE CONDITION AND THE PERFECTION OF THE WORK THAT HAS GONE INTO THIS CAR, EVERYONE WHO HAS SEEN IT HAS BEEN BLOWN AWAY. EVEN THE SPEEDO UNIT HAS BEEN RECONDITIONED AND WAS SET BACK TO ZERO AND HAS NOW ONLY DONE 6 MILES!! THE CAR HAS BEEN ON THE ROLLING ROAD BUT HASNT DONE A FULL POWER RUN BECAUSE THE ENGINE HAS YET TO BE RUN IN PROPERLY BUT THE ROLLING ROAD OPERATOR ESTIMATED ABOUT 200BHP.
I AM GOING TO ATTEMPT TO LIST THE COMPLETE SPEC OF THE CAR IN SECTIONS BUT I THINK I'LL BE ADDING BITS AND BOBS OVER THE NEXT FEW DAYS THAT HAS ESCAPED ME.
BODYSHELL
COMPLETELY REBUILT NON SUNROOF SHELL.
COMES WITH NUMBER PLATE E200PUG (200BHP PEUGEOT)
PAINTED IN ALFA ROMEO NUVOLA FLIP PAINT, PAINTED AND LACQUERED SEVERAL TIMES TO GET THE ULTIMATE FINISH.
DE-LOCKED.
REAR HATCH SMOOTHED.
FITTED WITH AN ECOSSE BODY KIT INCLUDING REAR SPOILER.
ALL PANEL GAPS AND FIT ARE PERFECT.
ALL GLASS AND RUBBERS ARE BRAND NEW NON TINTED (REAR OPENING QUARTERS WERE SPECIAL ORDER IN CLEAR).
FUEL FILLER RE-LOCATED TO BEHIND THE OFFSIDE REAR LIGHT.
BRAND NEW AUTOMATIC BONNET.
NEW HEADLIGHTS.
UNDERNEATH HAS BEEN PAINTED AND DETAILED.
ENGINE BAY
REBUILT MI16 ALLOY BLOCK ENGINE FITTED WITH PERFORMANCE CAMSHAFTS (ENGINE HAS DONE 6 MILES FROM NEW!!)
TWIN 45 CARBURETORS.
NEW FACET FUEL PUMP WITH BRAIDED LINES.
NEW POLISHED ADJUSTABLE FUEL REGULATOR.
DETAILED ENGINE BAY.
NEW BRAKE MASTER CYLINDER.
NEW BAILEY ALLOY HEADER TANK.
NEW LONGMANS 4 BRANCH STAINLESS MANIFOLD (HEAT WRAPPED).
NEW STAINLESS STEEL CENTER EXIT CUSTOM MADE EXHAUST.
NEW LONGMANS INLET MANIFOLD.
NEW PADDLE CLUTCH AND COVER WITH LIGHTENED FLYWHEEL.
NEW WATER WASHER BOTTLE.
NEW RADIATOR.
NEW DRIVESHAFTS.
NEW STEERING RACK.
NEW BOTTOM ARMS.
DETAILED CROSSMEMBER.

FRONT SUSPENSION AND BRAKES
NEW GROUP "A" BIG INSERT BILSTEIN ADJUSTABLE COILOVERS WITH TARMAC INSERTS.
NEW ECCENTRIC ADJUSTABLE ALLOY TOP MOUNTS.
NEW WHEEL BEARINGS IN RECONDITIONED HUBS.
4 POT ALLOY BRAKE CALIPERS.
NEW GROUP "A" ALCON BELLS AND DISKS.
NEW GREENSTUFF PADS.
BRAIDED HOSES.
NEW O/E DROP LINKS.
FRONT HUBS HAVE STUD CONVERSION.
REAR SUSPENSION AND BRAKES

GROUP "A" BILSTEIN SHOCK ABSORBERS.
REBUILT REAR BEAM.
DETAILED REAR BEAM.
NEW REAR CALIPERS (DETAILED).
NEW GREENSTUFF PADS.
BRAIDED HOSES.
NEW O/E REAR DISKS.
REAR HUBSHAVE STUD CONVERSION.
INTERIOR
RARE GREY CARPET, HEADLINING, CENTER CONSOLE AND DOOR CARDS.
RECONDITIONED CARPET WITH NEW DRIVERS HEEL PAD.
FULL LEATHER SEATS IN NEAR PERFECT CONDITION.
ROLAND GARROS LEATHER RIMMED STEERING WHEEL.
UNCUT PARCEL SHELF.
BOOT IS ACOUSTIC CARPETS THROUGHOUT.
ELECTRIC WINDOWS.
NEW REMOTE CENTRAL LOCKING WITH A REMOTE BOOT RELEASE.
INTERNAL BOOT RELEASE BUTTON.
THERE IS NO ICE IN THIS CAR, THE ORIGINAL STEREO HOLE IS CURRENTLY A STORAGE TRAY.
WHEELS AND TYRES

5 X OZ MOTORSPORT 17" ALLOY WHEELS NOT BRAND NEW BUT IMMACULATE AND UNMARKED.
5 NEW YOKOHAMA 17" TYRES.

ONCE AGAIN I CANNOT STRESS ENOUGH THAT THIS CAR NEEDS TO BE SEEN, WORDS SIMPLY DON'T DO IT JUSTICE. FOR FURTHER INFORMATION OR TO ARRANGE A VIEWING I CAN BE CONTACTED ON 07974 140798, BE WARNED I WILL TALK FOR AGES ABOUT IT!! CAR IS LOCATED NEAR CARDIFF, TEST DRIVES WILL ONLY BE AVAILABLE IF YOU CAN PROVIDE ADEQUATE INSURANCE AND ONLY IF ITS DRY, THIS CAR HAS NOT SEEN ANY RAIN OR EVEN DAMP.
I'M SURE I'VE FORGOTTEN OTHER THINGS BUT WILL ADD TO MY ADVERT AS SOON AS I THINK OF THEM. I WILL BE ADDING A LOT MORE DETAILED PICTURES ON MY FLICKR ACCOUNT OVER THE NEXT FEW DAYS AND WILL PUT A LINK ON HERE TO IT.
TO WRAP THINGS UP THIS IS VIRTUALLY A NEW CAR WHICH IS IN UNMARKED CONDITION, ITS A MILLION MILES FROM THE USUAL MODIFIED RUBBISH YOU SEE OUT THERE. VALUING IT HAS BEEN A NIGHTMARE AS IT WOULD COST YOU IN EXCESS OF 15K TO BUILD THIS CAR FROM SCRATCH AND REMEMBER IT UNUSED FROM BUILD! I WONT BE GIVING IT AWAY, I DON'T NEED THE MONEY BUT I DO NEED THE SPACE! THANKS FOR YOUR TIME. MIKE.
&nbsp
&nbsp